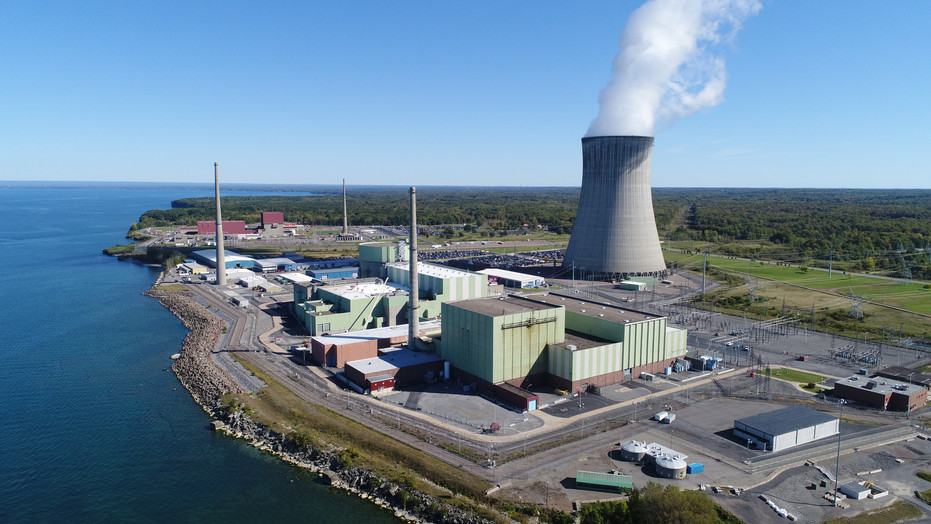 E&E News • 03-13-23 • By David Iaconangelo
The Nine Mile Point nuclear plant in New York began producing hydrogen last week, marking a first for the U.S. and casting light on a little-known method for producing carbon-free fuel.
"Pink" hydrogen, like the kind made at Nine Mile Point, is created when nuclear power extracts hydrogen molecules from water. Constellation Energy Corp., the plant's Maryland-based owner, won a $5.8 million Energy Department grant in 2021 to demonstrate the concept on a small scale.
On March 7, Constellation announced that it was using 1.25 megawatts of nuclear power to make 560 kilograms of hydrogen each day. That is enough to power a full day of travel for about 112 hydrogen fuel cell cars, according to DOE estimates of those cars' energy usage. Nine Mile Point is using the fuel in-house, to cool its reactors.
In a statement, Constellation CEO Joe Dominguez predicted that pink hydrogen would help slash emissions from fossil fuel-dependent industries.
"Hydrogen will be an indispensable tool in solving the climate crisis, and Nine Mile Point is going to show the world that nuclear power is the most efficient and cost-effective way to make it from a carbon-free resource," he said.
Nuclear plants have generally flown under the radar in policy debates over the best ways to make hydrogen. Most scientists and market analysts believe "green" hydrogen, which uses wind or solar electricity, will become the chief low-carbon variant of the fuel. The fossil fuel industry also promotes the "blue" kind, made from natural gas paired with carbon capture.
But pink hydrogen could gain broader traction as more federal subsidies become available.
When Congress created an $8 billion pot of funds to launch regional hubs of decarbonized hydrogen — as part of the 2021 bipartisan infrastructure law — it required at least one of the hubs to involve nuclear power. And the Inflation Reduction Act offers lucrative tax credits for making clean hydrogen.
Kathryn Huff, DOE's assistant secretary for nuclear energy, said the infrastructure law and Inflation Reduction Act would "even further expand the hydrogen market to create new economic and environmental benefits for nuclear energy."
"This accomplishment [at Nine Mile Point] tangibly demonstrates that our nation's existing reactor fleet can produce clean hydrogen today," she said in a statement.
But the nuclear industry has raised concerns over whether it will be able to benefit from the Inflation Reduction Act's clean hydrogen tax credits.
The reason has to do with upcoming guidance from the Treasury Department on the climate law's implementation, including requirements for companies to claim tax credits. Grid modelers, environmentalists and clean energy think tanks have pushed Treasury to include a condition known as "additionality." Under it, hydrogen producers would have to help finance and bring online new sources of clean electricity in order to claim Inflation Reduction Act tax credits.
The groups say that without an additionality clause, hydrogen producers could drive up emissions by using dirty electricity from the grid. A Princeton University study published late last year found that hydrogen made with grid electricity could be worse for the climate than hydrogen made from natural gas (Energywire, Dec. 23, 2022).
But the nuclear industry says an additionality requirement could drive up the cost of hydrogen, making it uneconomical to produce. And while pink hydrogen can be made on-site at a nuclear power plant — with zero resulting emissions — some companies may want to site their production facility elsewhere and instead use offsets to pay for nuclear power while drawing electricity from the grid.
Nuclear advocates, including trade representatives from the Nuclear Energy Institute and Constellation, have written to Treasury asking it not to institute the additionality requirement.
Mason Emnett, senior vice president of public policy at Constellation, said the requirement would triple the cost of hydrogen, citing a company analysis. Nuclear plants that don't have state contracts to stay online may choose to retire, without access to the hydrogen tax credits, he added.
Emnett also asserted that the Energy Department's main goal for clean hydrogen — slashing the fuel's cost by 80 percent by 2031 — would become unattainable.
"We think that is impossible with an additionality requirement," he said.
At $12.5 million in total cost, Constellation's hydrogen pilot in New York is a modest first step for the company and for the Energy Department, which has offered similar backing to three other hydrogen demos in Arizona, Minnesota and Ohio.
Constellation says it is hoping to become one of the nation's biggest pink hydrogen producers. It plans to invest $900 million through 2025 in commercial-scale production of the fuel. And it is a member of three multistate coalitions — the Midwest Alliance for Clean Hydrogen, the Northeast Clean Hydrogen Hub and the Mid-Atlantic Hydrogen Hub — that plan to apply for a share of the $8 billion in federal hydrogen hub money.
Other U.S. nuclear operators are also considering hydrogen as a possible new revenue stream.
Last summer, 40 nuclear and hydrogen companies launched the Nuclear Hydrogen Initiative, a coalition dedicated to developing and promoting policies to support pink hydrogen. Aside from Constellation, its membership includes Entergy Nuclear, the Nuclear Energy Institute, several national laboratories and prominent hydrogen equipment suppliers like Bloom Energy and Siemens AG.
At the time, Colleen Wright, Constellations' vice president of corporate strategy, said hydrogen production could help keep nuclear plants online over the long term.
For the country's climate goals, "it's going to be critical to have these assets stay online and have license extensions," she said.
https://subscriber.politicopro.com/article/eenews/2023/03/13/in-a-first-n-y-nuclear-plant-produces-carbon-free-hydrogen-00086545